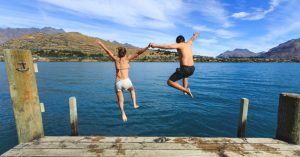 The quality of life in Charlotte, NC and its surrounding areas is greatly influenced by the climate in the region and the state of its green, open spaces. If you're new to the area or planning on moving to the Queen City, you will want to take a closer look at Charlotte's climate and natural areas.
Climate in Charlotte, NC
The climate in Charlotte, like many other places, is affected by its geography. The city is located in the Piedmont region, meaning it's tucked between the Appalachian Mountains and the Atlantic Coastal Plane. This location gives Charlotte and many other cities in the region ahumid subtropical climate.
So what can you expect from this type of climate? For one, Charlotte summers are hot and humid, with average daily temperatures that can go as high as 78.5 °F. A hotter-than-usual day in Charlotte can see temperatures rising up to 90 °F, with the hottest day ever, July 1, 2012, having a recorded temperature of 104 °F. With summers like these, it's absolutely important to dress appropriately, wear tons of sunscreen, and hydrate regularly. Summers in Charlotte last from mid-June to late September.
Hot and humid summers aside, winters in Charlotte are short and cool. This season generally lasts from mid-December to early March. The temperatures hardly go below freezing, with a recorded average daily temperature of 40.1 °F.  It's still cold, but compared to other places in the United States, Charlotte winters are relatively mild and agreeable. Be sure to layer up.
As for precipitation, spring and summer are usually when the region experiences most of its heavy rainfall. March is the wettest month in the city, while you can expect less to no precipitation at all during November, just before winter hits. Charlotte usually receives about six inches of snowfall every year, so it's not exactly a winter sports mecca. If you love to ski, however, you can always drive up to the mountains for some of the best ski runs in the region.
Nature in Charlotte, NC
If you're a nature lover or you crave outdoor excursions once in a while, you will thoroughly enjoy living in Charlotte. Scattered around the city are a number of botanical gardens and parks where you can chill out and relax. Here are some of the gardens and outdoor spots located within Charlotte:
UNC Botanical Garden

– You will find this gem within the University of North Carolina campus along Carver Road. This botanical garden covers 10 acres of land and includes several attractions, such as a water garden, the Susie Harwood garden, and the Van Landingham glen.

Charlotte Nature Museum

– This one, located within Freedom Park, is a great family-friendly attraction where you can treat yourself (and the kids) to a variety of interactive exhibits.

Wing Haven Gardens and Bird Sanctuary

– A historic attraction in Charlotte, Wing Haven Gardens was opened in 1927 by Elizabeth and Edwin Clarkson. Today, it features a large variety of flora from different corners of the world. It also comes highly recommended for avid bird watchers based in the city.
That's just three of the places in Charlotte where you can enjoy the beauty of nature. Other notable mentions include the RibbonWalk Nature Preserve and McDowell Nature Preserve. If you love hiking,check out this handy article about top hikes in the Charlotte area.
Experience North Carolina to the fullest
David Dunn can help you fulfill your real estate goals in Charlotte, the Peninsula, and Lake Norman, NC. For more information, browse the website orget in touch at 704.999.3591 ordavid(dotted)dunn(at)sothebysrealty(dotted)com.