Food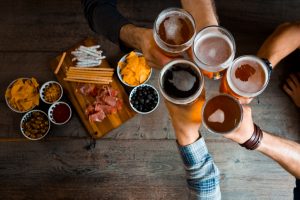 Charlotte may not be one of the country's premier foodie towns yet, but it's definitely on its way to becoming one. Charlotte boasts an up-and-coming culinary scene helmed by some of the most exciting chefs in the Southeast. Here are some of the most acclaimed restaurants in and around Charlotte and the Lake Norman area.
Kindred
131 N Main St. Davidson, NC
Located in the idyllic lakeside town of Davidson, Kindred hits all the right spots. The staff is knowledgeable and passionate about what they do, and the foodsings. It's been three years since Kindred opened, and Joe and Katy Kindred continue to serve great food from their kitchen out to the stylish dining room. The focus is still on what the local earth has to offer: each dish is made with fresh, locally sourced and in-season ingredients.
The Fig Tree
1601 E 7th St, Charlotte, NC
Showcasing the best of continental fare in a fine dining setting, The Fig Tree is a Charlotte institution. It's been around since 2005, and has consistently gathered great feedback from foodies and food critics. The Fig Tree is located in the historic Lucas House, where the kitchen is the stage as Chef Greg artfully and creatively whips up seasonal Italian and French-inspired food. It's old school, it's traditional, and it's so good.
Aix en Provence
545 B Providence Rd, Charlotte, NC
A newcomer to the local culinary scene, Aix en Provence has solidified its spot as one of the best restaurants in Charlotte. Helmed by chef Nicholas Tarnate, Aix en Provence's kitchen produces honest-to-goodness French countryside favorites, with additional, welcome flavors from Spain and Italy. As for the ambiance, dining in Aix en Provence is personal and intimate. The dining room only fits 40 people, allowing diners to completely savor their meal in peace and quiet.
Barrington's
7822 Fairview Rd, Charlotte, NC
http://barringtonsrestaurant.com/
It's been a while since Barrington's opened (back in 2000), but you'll often hear Barrington's whenever anyone speaks of the best restaurants in Charlotte, and with good reason. Barrington's consistently delivers impeccable New American cuisine featuring the best seasonal and locally sourced produce, all wonderfully paired with an equally impressive wine list. Regardless of the occasion, Barrington's can turn your day or night into a memorable affair.
The Asbury
235 N Tryon St, Charlotte, NC
Step into The Dunhill and into The Asbury, renowned for serving the best of rustic Southern cuisine. The Asbury takes the concept and tradition of Southern hospitality to new heights, introducing diners to familiar ingredients characteristic of Southern food, as well as lesser-known and less-utilized ones. With each dish, diners can appreciate the love and thought chef Matthew Krenz poured into his creations, as well as his deep respect for ingredients and producers.
A world of great food awaits
There is plenty more to see, taste, and experience in Charlotte and the Lake Norman area. Get in touch with David Dunn today at 704.999.3591 ordavid(dotted)dunn(at)sothebysrealty(dotted)comto find out everything you need to know about the lifestyle here.