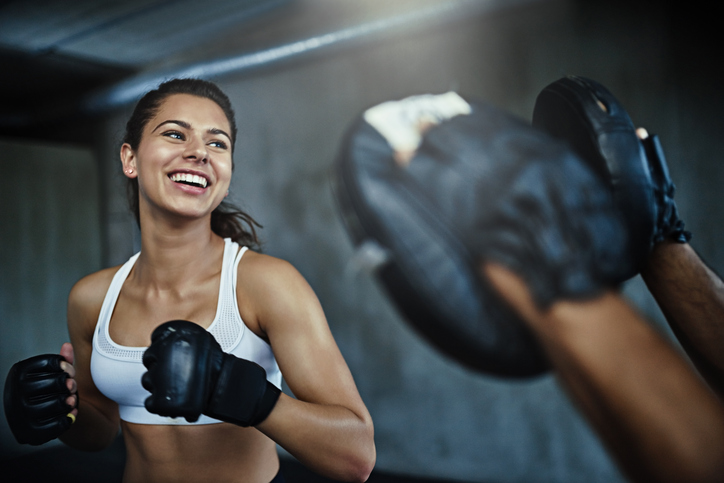 It's time to say goodbye to what was billed as Cornelius' best boxing gym and fitness facility. Fast Fit Boxing is no more – in its place is what is promised to be a much better version: RockBox Fitness.
Located along North Cove Road, RockBox Fitness is Fast Fit Boxing's brand-new identity and successor. The decision to rebrand was made by gym owners Steve and Lisa Halloran, together with their expert trainer, Walt. The collaboration resulted in an upgraded space where fitness and boxing enthusiasts can train effectively and efficiently.
From boxing to overall fitness
Although Fast Fit Boxing also offered a studio, the facility mainly focused on one sport: boxing. The Hallorans decided to make overall fitness the goal and thus transformed Fast Fix Boxing into RockBox Fitness. There's still boxing, of course, but guests will also find a wide range of functional training equipment, from kettle bells of different weights to battle ropes.
Aside from a better range of weight and cardio training equipment, the Hallorans also wanted to elevate the experience of working out. In the process, they called in contractors and had high-end light and sound systems installed throughout the fitness center to help get members pumped up.
As they put it on their website: "We have installed high-end sound systems to rock the tunes that keep you pumped and pushing hard. We also use adaptive lighting to cue another level of psychological motivation. When the light changes, so does your intensity."
The Hallorans and their team of expert trainers are extremely pleased with the results. During its opening week, RockBox Fitness garnered positive reviews from gym members.
"Our members tell us we have the perfect combination of intensity, mojo, fun, motivation, and results," says the staff.
For beginners: what to expect at RockBox Fitness
RockBox Fitness specializes in boxing and kickboxing fitness while incorporating other training methods to give you a full body workout. If you're a beginner planning to sign up for a class or membership at RockBox Fitness, here are some things you should know.
There are four membership types. Take your pick from Unlimited Hits, Standing 8 Count, Bob and Weave, and Personal. Ultimate Hits is highly recommended for enthusiasts who want to make the most out of their membership. Standing 8 Count allows members to take 8 sessions per month. Bob and Weave gives members more flexibility – you can choose between 5, 10, or 20 workout packs. Lastly, you can also train one-on-one using a personalized plan that fits your fitness goals.
It's open to anyone regardless of fitness level. The trainers at RockBox Fitness will assess your fitness through a benchmark workout. This will set the tone for the rest of your program, until you get stronger and move on to advanced workouts.
RockBox Fitness has three locations in North Carolina. Aside from the Cornelius branch, RockBox Fitness also has fitness studios in Huntersville and Charlotte. Everyone is also welcome to open a RockBox Fitness franchise, especially if you uphold their fitness and workout philosophy.
You can learn more about RockBox Fitness by logging on to their website at
https://www.rockboxfitness.com.