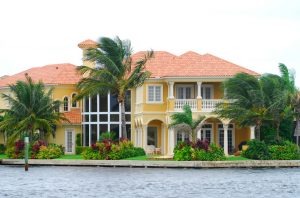 There are different mortgages designed to support different home-buying needs. Here are the most common types used in the United States, including the ideal type for buyers of luxury properties.
General mortgage classifications
Some of the most typical mortgages can be summed up according to who guarantees the loan, the payment structure, and the mortgage size.
According to the guarantor
Conventional mortgage –

A mortgage that is not guaranteed and insured by a government agency. These come from banks and other privately owned lending facilities.
Government-insured mortgage –

The collective term used for mortgages offered and backed by the Federal Housing Administration (FHA), Department of Veterans Affairs (VA), and Department of Agriculture/Rural Housing Service (USDA/RHS).
According to the payment/rate terms
Fixed-rate mortgage

– Under these terms, borrowers pay a fixed monthly amount throughout the life of the loan (typically 15- or 30-year terms) before interest rate increases apply.
Adjustable-rate mortgage (ARM) –

This type of mortgage features lower interest rates for the first few years of the loan duration. Buyers who plan to move homes after a few years can take advantage of interest cost savings with this mortgage.
Intermediate ARMs / Hybrid mortgage –

Hybrid loans offer fixed interest rates for the first 3 to 10 years (depending on the agreed terms), after which the interest rates adjust based on current market conditions.
According to the mortgage size
Conforming mortgage –

These are moderately sized loans that falling within the guidelines set by the Federal National Mortgage Association (Fannie Mae) and Federal Home Loan Mortgage Corporation (Freddie Mac). For 2018, the maximum loan limits for mortgages is set at $453,100.
Non-conforming mortgage –

Any mortgage that

exceeds the Fannie Mae and Freddie Mac loan limits. These come in various forms, but the most well-known is the jumbo loan.
Jumbo loans: The best choice for luxury home buyers
Jumbo mortgages are designed for buying homes priced well above the $453,100 conforming mortgage limit.
The large amount involved in this type of loan makes jumbo mortgages risky for lenders, so borrowers should expect more stringent qualifications for this type of loan.
Lenders in North Carolina offer varying, competitive packages and terms for jumbo mortgages, butgeneral requirements include:
Good credit –

Credit scores of 700 or higher are typically preferred. Scores of at least 660 can still qualify for a jumbo mortgage, but with higher interest rates.
Income –

Borrowers

must be able to have proof of substantial and stable income through the standard W-2 form and pay stub requirements. Self-employed borrowers must be able to prove their income flow through at least 2 full years of tax returns.
Banking and assets –

Typical

bank and asset statements (e.g. savings, checking, investment, and retirement accounts) apply, but most jumbo mortgage programs also require a minimum of 3 to 6 months of payment reserves.

Larger down payment
Proof of US citizenship
Jumbo mortgages in North Carolina apply primarily to single-family homes, condos, and townhomes; vacant land and acreage are not eligible for jumbo loans. Down payments are typically higher for luxury properties purchased as vacation homes.
For more about real estate financing options and resources,read here.
Find the best mortgage terms and lenders forCharlotte,Cornelius, andLake Normanluxury homes for salewith help from leading North Carolina realtorDavid Dunn.Call704-999-3591today or emailDavid.Dunn@SothebysRealty.com.